6/14/21 Update
Semify continues to grow in 2021. As the pandemic is ending, they are seeing a large surge in demand for digital marketing. As the team continues to focus on creating amazing customer experiences, the positive online reviews naturally follow. Here is a sample of a few recent verified customer reviews from Clutch.io.

Clutch is different from most review websites because they actually do phone verification to make certain the submitter is a real customer. This type of verification of reviews not common, and makes Clutch a particularly trustworthy source for online customer reviews.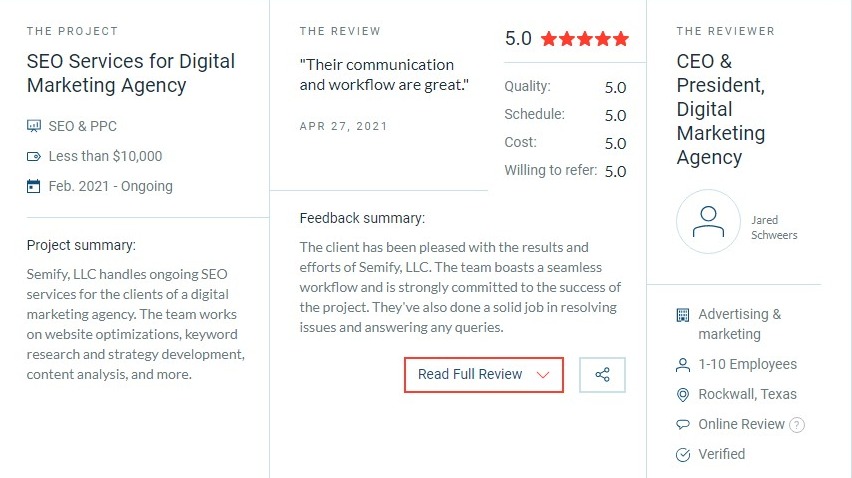 The Semify team continues to track their Net Promoter Score (NPS) very closely. NPS is a nationally recognized measure of how devoted your customers are to your brand. The Semify team is extremely proud to be consistently achieving scores over 50, and occasionally 70 (consider "World Class" customer service). 
2021 Update
Many updates to share here. Most importantly. HubShout rebranded the company to Semify in 2020. They wanted to make it perfectly clear that they were not HubSpot (no affiliation whatsoever). Since the relaunch of Semify, the company has continued to share their Customer Satisfaction data with pride. What started many years ago, has turned into a culture of customer service that has now shown persistence. Net Promoter Scores (NPS) are still tracked religiously at the firm – and remain at extremely high levels of service. Phones are still answered within 30 seconds. And email and support tickets are responded to within 4 business hours always! 80% are responded to within 1 business hour. Fairly amazing. Of course, companies come to Semify for the SEO and PPC. So what are they saying about the professional SEM services? Well, why not hear from them directly. Here are actual Yelp reviews from real customers.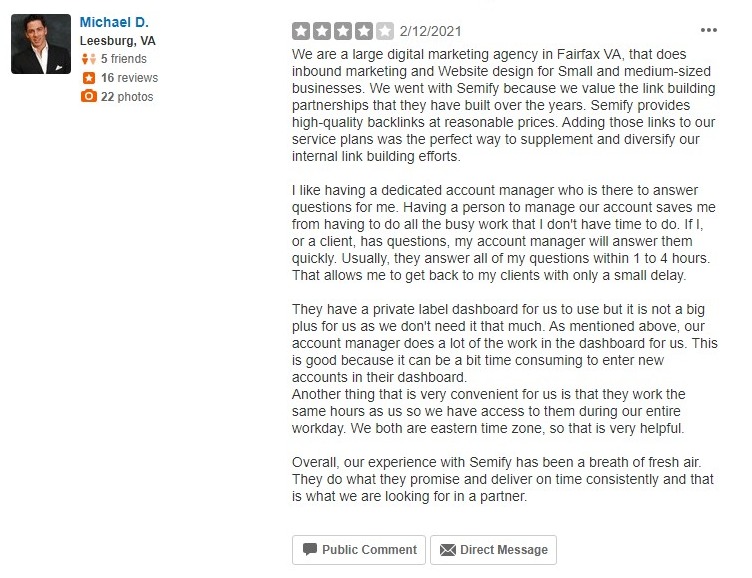 The team cares greatly about the resellers in the community. The cultural growth over the last few years has demonstrated that a community that is engaged will build strong relationships. These relationships are critical for delivering high levels of service. Read on.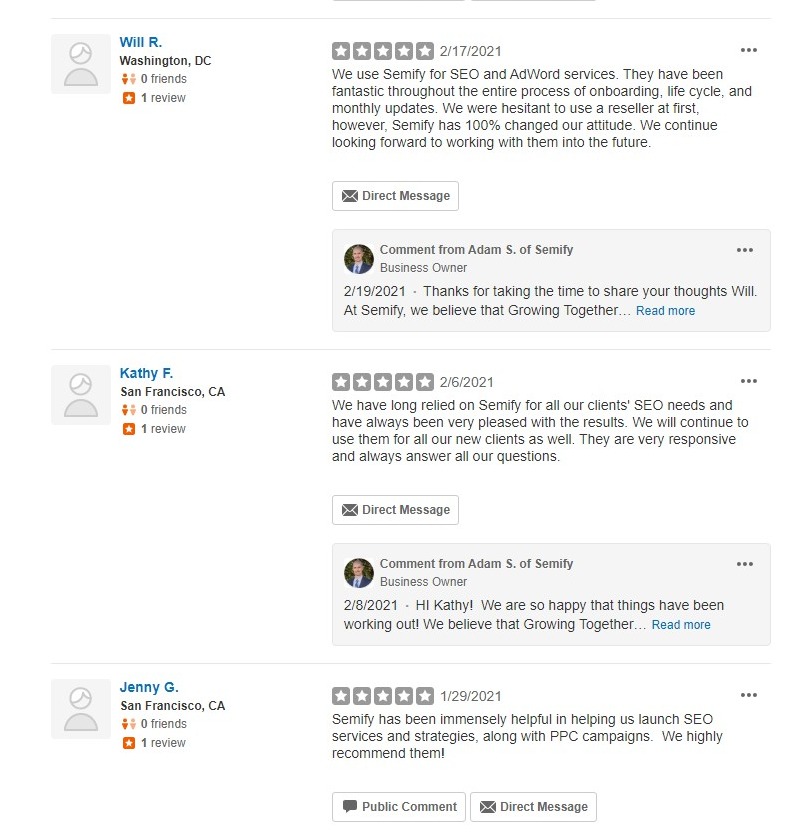 2020 Update
Here are some actual Semify reviews from real customers listed on Yelp.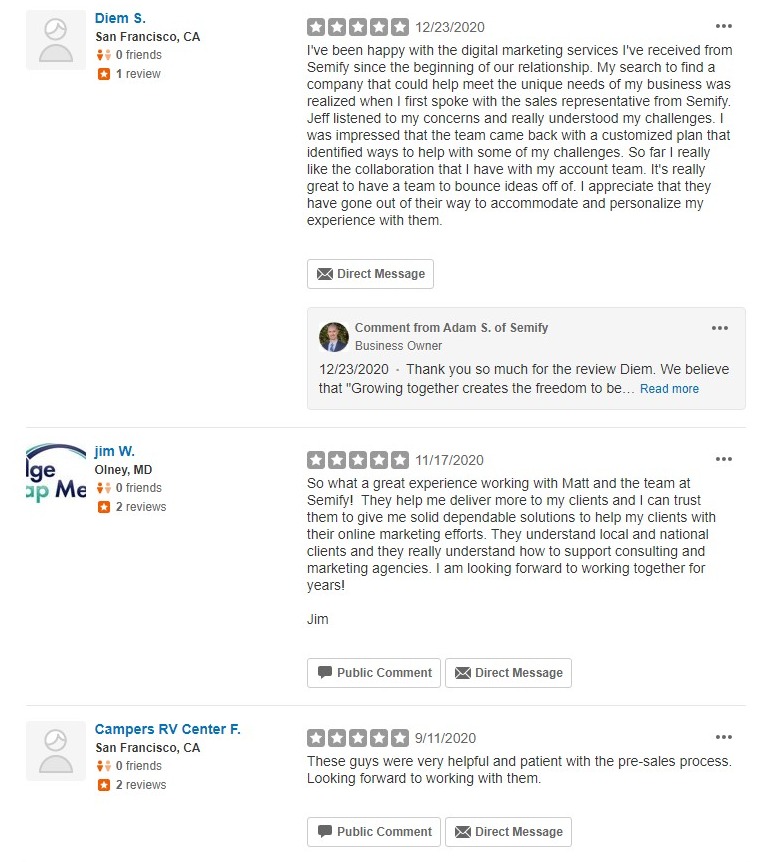 Yes. finding real reviews online can be quite tricky. You must always check the source, and ensure you are reading real data. Semify offers that you can contact any of these customers if you wish (assuming the customer is okay with that). In keeping with their value of transparency, they are very open about their relationships, customers and data.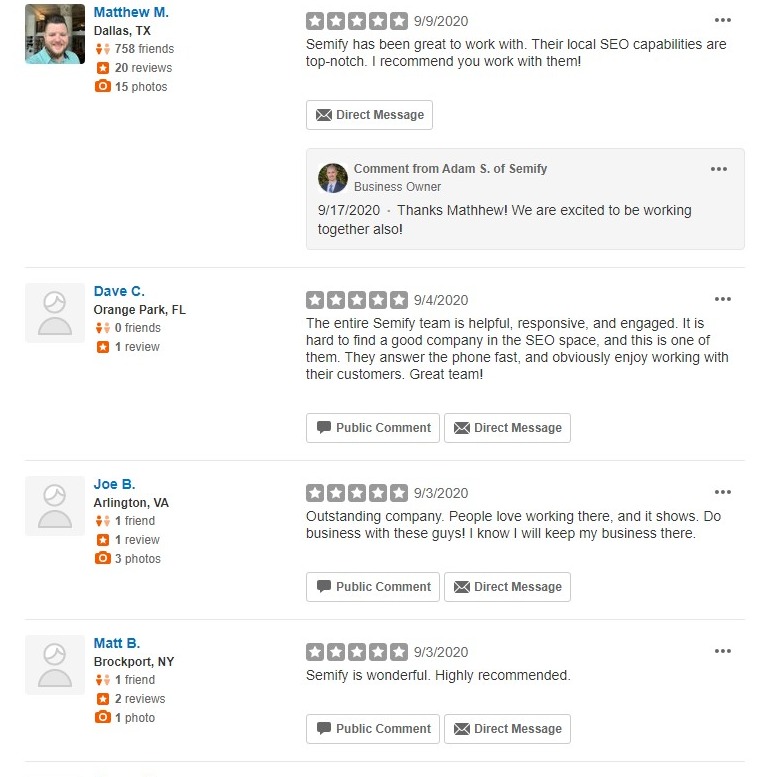 2018 Update
Customer Satisfaction Survey scores have jumped significantly in the last 12 months as Semify has brought a huge emphasis to service, customer experience, and open dialog (driven by survey feedback). The entire Semify team has used the process outlined below to drive strong improvements to their business.
There are countless customer stories over the last year that demonstrate how the new approach launched in 2017 has really worked. For example, a customer (let's call him "Dave") was extremely unhappy with service in January. He has filled out his online customer survey and given the firm a really bad score. Before the 2017 update, this would have gone unnoticed. Since the 2017 revamp, the survey immediately caught the attention of Dave's Account Manager. Also, the Semify Executive Team does weekly reviews of the survey scores and also saw that Dave was unhappy. The Account Manager and President initiated a series of customer survey phone calls to fully understand why Dave was unhappy with the service. Based on these interactions, many aspects of Dave's engagement were changed. Over a series of probably 6 phone calls, follow-up projects, and changes to Dave's account, things were looking much different. By the time the next customer satisfaction survey came out (quarter reviews are requested), Dave gave the firm a MUCH higher survey score. This story has been repeating itself all over the firm over the last 12 months.
********************ORIGINAL BLOG POST***********************


August, 2017: Semify has updated their customer satisfaction data and reviews on their website here. They have outlined their philosophy over the last year as they have faced-into unhappy customers (poor survey scores) and revamped their approach to customer service and account management. They are using the Lean Startup philosophy to run experiments that show how to delight customers using validated techniques. They have released some very specific data demonstrating that their reviews and customer experiences have increased. Specifically, here is the recent trend of customer survey scores on a 5 point scale, reaching as high as 4.5 out of 5 stars:
As the data shows, they have been able to improve the customer experience to higher than 4 consistently for the last 5 months. Based on reviews from previous years, this was not the case. Specifically, people had complained about communication problems, lack of accountability and low customer-service orientation by the firm.

The firm has been working on other areas of their offering as well. Their content creation team has always been a strong feature because the writers are in the US, unlike other services that off-shore. Semify has been working to capitalize on their on-shore team by having client-facing phone calls with the end-client and reseller together at the start of their campaign. They believe this is why their satisfaction with onsite content scores have moved up from a 3.7 well above 4.0 – as high as 4.5 out of 5 stars on their customer reviews. Again, here is the data they are sharing on this topic:
It is clear that HubShout is paying attention to their customer reviews. They have re-organized many of their internal efforts to address previous complaints. The new data shows promise. However, we will need to check back in to this data in 6 months and see if they can continue to hit such high standards as they continue to grow.